7 Speaking Voice Elements that Empower your Leadership Credibility
Click on the video below to watch what this course is all about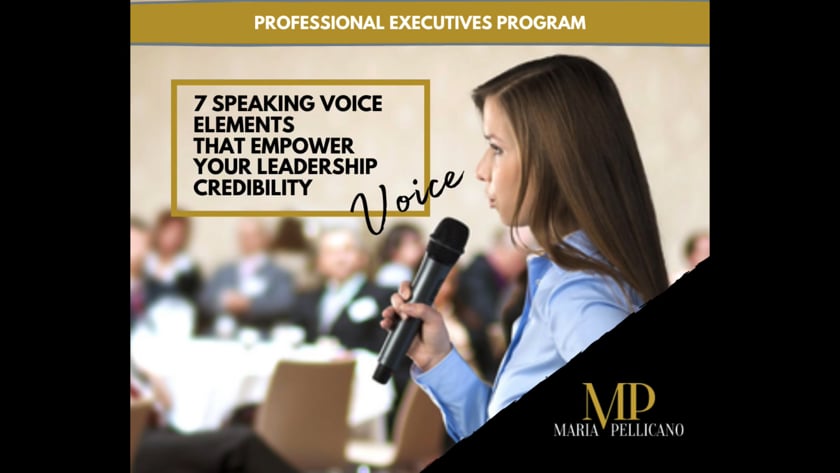 In the current climate with Zoom or Microsoft Teams meetings, your voice tone can come across as monotone, lacking confidence and in some cases intimidating without you knowing. This is the perfect course for someone who wishes to be seen as a confident communication specialist.
I'm Maria Pellicano, Your Trainer
For the past 20 years I have been empowering people to present on platforms with confidence, competency and certainty by tweaking the voice, mindset and message to powerfully communicate with influence.
I have conducted public speaking training and voice coaching with both business and personal clients and now have created this online course for you.
Working daily with coaches, executives, CEOs, leaders, managers, trainers  and university professors who rely on their voices to be credible and influential, I know what these leaders need and how to help them have executive presence and this course offers you all that!  
Who should attend this '7 Speaking Elements That Empower Your Leadership Credibility' Course
This course is purposely built for Professional Executives who wish to engage their audience, be taken seriously by their peers and teams and who wish to sound better rather than coming off as boring.
This course is for those looking to be credible and influential.
Key Takeaways
This course helps professional leaders who want to use their voices to create success and influence.
Sneak Peak
Curious about how the course works?
As my gift to you, here are 3 topics that we'll cover on the course.
Enjoy!
Voice tone is a habit and sometimes a trap that can limit the power to communicate effectively and engage with others.
It is a choice for some who are aware and have skill to change it. Voice tone impacts the meaning and delivery of the message in how it's heard and understood.
It is a non-verbal aspect of communication and perceptions about what you know and who you are, are assumed from your speaking tone.
Voice tone impacts your ability to influence, be trusted and even to make more money or not. Check out research here.
Vocal tone in communication
The human voice is one of the most compelling ways to get your point across. It can help you command respect, attract engagement and add meaning and tone to your content. The voice becomes even more important when you can't use non-verbal communication, for example, when you're pitching on a call, or mediating a teleconference. What can you do to make sure that your voice conveys meaning and clarity?

— Tim Chilvers
Vocal tone quality includes all the elements of variety, clarity, richness, pleasantness, and emotional connection. Unconsciously we produce many layers of expression that are embedded in the tone of our voice, revealing our souls to others. Clients and audiences want a voice that not only informs them but makes listening enjoyable, memorable and inspirational.
THINK ABOUT:
Someone whose voice you love listening to, versus the grating shrilly speaker who gets on your nerves. What does it make you feel like? Are you likely to continue to speak with them?
Statistics and research
Politicians are selected more on their charisma
Check out the research here. Charisma is more important than the words.
Doctors who use the wrong speaking tone get sued the most. Check out the research here.
Soft skills for business executives
Soft skills are the personal attributes, personality traits, inherent social cues, and communication abilities needed for success on the job. Soft skills characterise how a person interacts in his or her relationships with others. Check the research here.
"To convince people and speak with power and influence you must combine what you say and how you say it."

— Dr Gary Genard
Common voice problem – mumbling, unclear voice tone 
Mumbling makes it difficult for people to really understand you. Speaking clearly and energetically helps us hear you better and engage confidently.
Opening your mouth, relaxing your jaw and using your tongue to speak clearly can help you avoid mumbling.
Sometimes mumbling occurs due to a strong accent which can make it challenging but with speaking voice awareness and skills gained from voice exercising and practice, you can soften your accent and have flexibility in pronouncing your words.
Practice these exercises to remove the mumble, soften an accent, and have a clear and articulate speaking voice.
Listen to the guided track explaining the exercises first, and then choose the male or female track to practice.
To speak from your heart is to be Emotionally Intelligent. This is mostly noticed as non-verbal communication.
To know how to do this, is to have choice by controlling how you use your voice tone to create the mood you want when speaking.
Listening is communication just as much as speaking and without listening we cannot speak. When we listen we engage and we will only engage when we can feel what you are saying.
"Speech is the voice of the heart."  

— Anna Quindlen
To speak from the heart is to engage with your emotions and use the right voice tone for your message. When we do this, we are using what is termed "soft skills". Soft Skills help you maintain a soft heartfelt conversation with your clients, customers, staff and peers. Even if your communication is a tough conversation, with soft skills in speaking and listening you can have a heartfelt and emotionally intelligent speaking voice tonality that communicates beyond just words.
"The heart will inform the brain what to say and how to say it."  

— Sarah Blondin
Voice tone is triggered by thought and the result is an emotion, just like a spontaneous scream or crying voice expression. The limbic nervous system activates the larynx and causes variations in the vocal cords. A thought causes an emotion that creates a voice tonality which brings meaning to your message. Check research here.
Have you ever heard the statements 
"Don't use that tone of voice with me" or  "I didn't mean to say that!"?
Voice tone in speech is even more important than the words alone. Sometimes you can have the right message but the wrong tone. What you want to say and how you say it makes a huge difference to how it's received. When you speak non-verbal aspects of what you say are even more important. Speaking voice tone is non-verbal and it carries a-lot of weight.
Engaging with your emotions is the key to speaking from your heart. Emotions will flow through your speaking voice tone. Your voice is in your throat so you cannot think about it but must learn to feel your voice before you speak. 
Emotions are stored in your torso, throat, chest and stomach. This is where we feel tightness, pain or even the term "lump in the throat". Emotions or feelings are never stored in your head so you cannot feel your emotions in your head.
"You can speak well if your tongue can deliver the message of your heart." When you speak non-verbal aspects of what you say is even more important. When you speak non-verbal aspects of what you say is even more important.

— Henry Ford 
You may be thinking that speaking from the heart is corny and maybe even slightly weak, however, your heart is speaking to your head all the time.
Try this visualisation exercise 
Imagine bringing your thinking mind down to the heart space by touching your heart. 
Intentionally activate a deep and personal memory you have had of empathy, compassion, integrity, passion, and purpose with someone who is close to you. 
Now bring these feelings to your throat, by touching it or imagining them, and then speak your message with these emotions.  
The emotions you feel are stronger than your thinking mind, so they will inform your mind of the right words and voice tone so that you can speak from the heart. 
Many are unaware of speaking voice tone and this can limit the potential of speaking from the heart. Many conversations are disregarded and deep engagement is missed in personal and professional relationships simply because there is no heart in the spoken message.
Sometimes your heart is wanting to speak but your voice tone is not connecting to, supporting or matching your message, so when this happens you are not congruent and authentic.
Harnessing and expanding your voice tonality with technique helps you communicate from the heart. 
"The only reason to master technique is to be sure the body does not interfere with the soul's free expression." 

— La Meri 
Here are four tips to help you express emotion in your voice.
1. Breathe deeply using your diaphragm
2. Use a wider range of speaking tone pitch expression
Being able to use speaking tone expression means you can easily inflect higher and lower pitches for communicating with passion and enthusiasm. The opposite would be to have a monotone that makes your speaking sound boring, robotic, and lacking heartfelt communication. Research shows that we choose leaders based on the charisma in their speaking voice because we find it more engaging. Click for the research here.
Tip 2: Lip trill voice warm-ups help you increase your speech pitch range. Repeat the warm-up, feeling the free resonance and vibration beginning in the chest and going to the head voice.
3. Slow down your speaking pace
Speaking slowly helps others feel your words and bring emotion into what you are saying. When you speak too fast it doesn't put your audience first, sounds heartless, and has an anxious presence. Breathlessness can occur because there is no space for pausing. Your speaking pace for general conversations should be 120-160 words per minute. Check out research here.
Tip 3: Record yourself and listen back to your speaking pace and pauses.
4. Vocal Cords help your speaking voice sound more heartfelt
Just like guitar strings, vocal cords can stretch and lengthen creating open or narrow sound waves depending on how they are used. When vocal cords tighten, breath is reduced and makes your voice tone sound harsh, intimidating, and lacking in empathy. This can happen when we are stressed or angry. When the vocal cords are more relaxed they have more breath moving through them allowing a sense of warmth, softness, emotion, nurturing, and heart. 
Tip 4: Use this straw exercise to help you balance your throat muscles and breathing. 
See Video Below 
Use your imagination to help you feel your words and practice the 4 voice tips to help you develop a voice that speaks from the heart. 
In conclusion, to speak from the heart is to not just think about your words but to engage with your body, activate your emotions, and then use your voice to deliver the right tone for what you would like to say.
ALSO AVAILABLE
Programs personalised to your needs
BUSINESS VOICE COACHING
Is your voice intimidating, high or low pitched, too soft, lacking power, unclear, monotone, fatigued or strained ? With voice coaching you can improve the quality, health and tone of your speaking voice to help you communicate more effectively with others. Find out how you can Increase your awareness and potential of your voice tone.
MENTORING AND WORKSHOPS
Have you ever considered public speaking training ? Do you wonder why other people can be so confident in their communication while all you want to do is hide? Do you want your voice to be clearly heard? Do you want to speak and be inspirational? Find out how you can feel confident, be credible and respected when you speak. The way you think and feel effects the way you speak and many people remain stuck and unable to engage and be present when communicating.
Testimonials From Previous Clients​